Price

RM12.32

RM19.90

Product SKU
ID0687-01
Size (L x W x H)
60 cm x 4.5 cm x 4.5 cm
Availability
3823
Shipping Fee

Option

Quantity
Description
Highlight
Product Description:
Decorative waterproof sticker Mosaic pastes, the latest low carbon environmental protection product!
Method of use:
-To paste the location of surface dust or grease pollutants such as clean after dry (to stick on the surface of flat, not wet)
This corresponded with stickers to her how to put the best first.
- Carefully from top to bottom, stick wallpaper on the gradually remove the protection on the reverse of the paper layer.Use soft cloth or towel by wallpaper the central to gently wipe up flat on both ends, all the bubble discharge, ensure a smooth effect.
- If there are air bubbles with a needle stick out once it is ok to run the air.
Thickness – 0.25MM
Length – 5 Meter
Width – 0.6 Meter
Self Adhersive (No glue Needed)
『 PRODUCT SPECIFICATIONS 』
➤ Colour: 
(i) Light Black (New)
(ii) Light Grey Marble
(ii) C
(iv) Royal Black Marble
(v) IDM40-B1040
(vi) IDM48-B1048
(vii) IDM50-B1050
(viii) IDM51-B1051
(ix) SB
(x) YS
➤ Length: 5 Meter
➤ Width : 0.6 Meter
➤ Thickness: 0.25mm
➤ Step to use:
(i) paste the location of surface dust or grease pollutants such as clean after dry (to stick on the surface of flat, not wet)
(ii) This corresponded with stickers to her how to put the best first.
(iii) Carefully from top to bottom, stick wallpaper on the gradually remove the protection on the reverse of the paper layer. Use soft cloth or towel by wallpaper the central to gently wipe up flat on both ends, all the bubble discharge, ensure a smooth effect.
(iv) If there are air bubbles with a needle stick out once it is ok to run the air.
『 PRODUCT FEATURES 』
✔ Decorative waterproof sticker Mosaic pastes, the latest low carbon environmental protection product!
✔ Self Adhersive (No glue Needed)
『  PRODUCT DETAILS 』
★ Due to different production batches, product details might be slightly different. Please mind the difference before purchasing.
★ Kindly allow 1-3cm errors due to manual measurement.  (Note: 1cm=0.3937inch)
★ Due to the different display and lighting issue, the picture may not reflect the actual colour of the item.
★ Weight differs based on volumetric weight and actual weight, whichever is higher.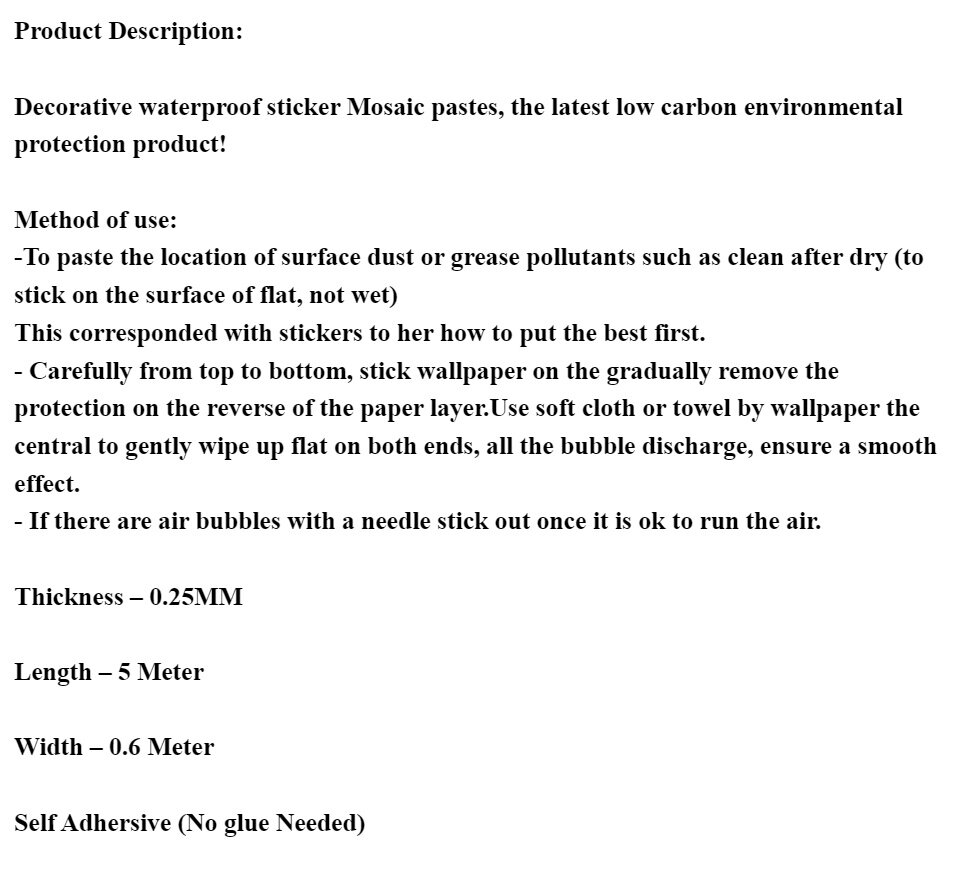 What's in the box
1 roll 5 meter marble filme